Bees Need Vets
Changes in Antibiotic Access for Beekeepers
Starting in 2017, beekeepers will only be able to get antibiotics by working with a veterinarian. In the past, if a beekeeper needed an antibiotic for their colonies, they could purchase them over the counter at a farm store or a beekeeping supply company. This process has changed, and new regulation (Rule #213) requires that antibiotics for honey bees and other food producing livestock be available only through a prescription or through a veterinary feed directive (VFD) order from a veterinarian. If you are a beekeeper, and you need antibiotics to treat a disease in your colony, you will have to do the following:
set up and maintain a relationship with a licensed veterinarian,
have the veterinarian issue a prescription or a VFD order, and
obtain the antibiotics from a pharmacy.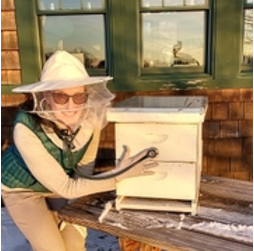 While the medications for honey bee diseases will still be available, the process to get them will take longer, so you will have to plan ahead. The first step that you can do is to set up a relationship with a veterinarian.
If you have a vet that you already work with for other animals, discuss this with them early, so they can get the training and resources that they need. If your vet is not confident on the rules and regulations for honey bees, have them sign up to our mailing list to get further training and information.
Timeline
The final FDA ruling went into effect October 2015, and was fully implemented by December 2016. Some medications, however, have already changed their labels to follow the new regulations. Once the label has been changed, it must be followed. For example, Tylan has already sold out of its old labeled drug, and is selling under its new label that indicates that it is only available by prescription.
How can beekeepers get the medications that they need?
This ruling affects antibiotics. For bees, this means oxytetracycline (terramycin), lincomycin (Lincomix) and tylosin (Tylan). A listing of affected applications is here. To access these antibiotics, a beekeeper will have to work with a veterinarian. There are three steps to this process:
Setting up a veterinarian patient client relationship. In order to write a script or to issue a Veterinary Feed Directive (VFD) order, a veterinarian must have a relationship with you. Many states have their own guidelines as to what is required to constitute a patient client relationship. If a state doesn't have guidelines, then they fall under federal guidelines, which is set forth in FDA's regulations at § 530.3(i) (21 CFR 530.3(i)).
A valid veterinarian-client-patient relationship is one in which:
A veterinarian has assumed the responsibility for making medical judgments regarding the health of (an) animal(s) and the need for medical treatment, and the client (the owner of the animal or animals or other caretaker) has agreed to follow the instructions of the veterinarian;
There is sufficient knowledge of the animal(s) by the veterinarian to initiate at least a general or preliminary diagnosis of the medical condition of the animal(s); and
The practicing veterinarian is readily available for followup in case of adverse reactions or failure of the regimen of therapy. Such a relationship can exist only when the veterinarian has recently seen and is personally acquainted with the keeping and care of the animal(s) by virtue of examination of the animal(s), and/or by medically appropriate and timely visits to the premises where the animal(s) are kept.
Your vet should know what they need to do to make sure that these guidelines are met, and will tell you what is necessary to make sure you have this relationship. If you already work with a veterinarian, talk to them about the needs of your bees. If you don't have a vet, check out our list of Michigan vets who are interested in working with bees.
Getting a prescription. Your vet will have to follow guidelines to issue you a prescription. This may involve a laboratory diagnostic test, a field test, or a visit by a veterinarian or a tech. Your veterinarian will have to follow best management practices to issue a script. Most veterinarians are learning about honey bee diseases, and the guidance documents will change as this goes into effect. Be patient with your vet as they work with you and learn the new criteria, and do your best to educate them on what you know about honey bee diseases.
Filling your prescription. You will have to purchase the drugs from a licensed pharmacy or through a licensed feed mill (for VFD). Since many of the prescriptions used for bees are for honey bees only, and are available in large quantities, many private vets or small pharmacies may not carry the drugs that you need. University pharmacies or compounding pharmacies have larger stores of lesser used drugs, and are a good place to call first to get your prescription filled.
This ruling is in full effect as of January 2017. Honey bees will now be treated a lot more like animals, and will be under veterinary care. While the transition will be difficult for many beekeepers, it will have some positive effects. First, this will protect our antibiotics. This is important for our own health, but also for the health of our bees. We are already seeing resistance to antibiotics, meaning that some of the treatments are no longer useful. More judicious use will make the treatments we have available for longer and will help future beekeepers. Second, as veterinarians are trained on honey bee diseases, there will be many more individuals who can diagnose, advise, and understand honey bee diseases. The more people who understand bee diseases, the better we can prevent and cure them, promoting better health for our bees.
Veterinarians who are interested in receiving information on trainings can sign up for our mailing list.
Veterinarians who are interested in being listed to work with Michigan Beekeepers, can sign up using our online form.
Others who are interested in updates to this issue and other pollinator related issues can sign up for the MSU pollinators and pollination newsletter and select "pollinators and pollination."