Large-scale Pollinator Planting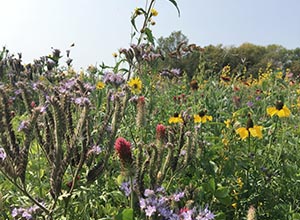 Large-scale pollinator plantings greatly benefit pollinator health. When planted correctly, they will provide ample food and habitat for pollinators in need. Installing a large-scale pollinator plot might seem daunting at first, but there are many experts, online guides, and funding sources to help you get started.
There is no such thing as a one-size-fits-all pollinator planting. The best planting for you will depend on your soil type, drainage, sun, growing zone, size, budget, etc. Do some research about the landscape in your area and make sure you have the information to ensure your plants will thrive. More often than not, the same people who produce plants and collect seed for sale also know a lot about how to establish and grow them well. Some Conservation Districts have rental tools for establishing grassland plants from seed, and all can direct you to someone for advice. Below are resources for installation and maintenance, sources for seeds and plants, and sources to help fund your pollinator planting.
Spreadsheet of MI based resources for seeds/ burning/ consulting for pollinator habitat (Updated July 2020). To add a consultant to this list, please email mpi@msu.edu
Resources for installation and maintenance of large-scale pollinator plots:
Sources for seeds/plants:
Sources for funding:
Resources for evaluating your planting