What to do if you suspect your honey bee colony has been poisoned by pesticides
What to do if you suspect your honey bee colonies are damaged by pesticides
If you suspect that your honey bee colonies have been damaged by pesticides it is important to quickly report the incident. Make sure that you have reason to suspect that your colony loss was indeed linked to pesticides, like the presence of exceptional numbers of dead bees in front of the hives. Some other hive threats such as viruses can cause dramatic losses. If you aren't sure if the type of death is pesticide related, you can contact MSU extension.
Step 1: Take photos and videos of the hives, as well as dead or dying bees. Don't manipulate the hive or take any other action until an inspector has been able to visit and collect information. You will need the samples to be officially collected.
Step 2: Contact Michigan Department of Agriculture and Rural Development (MDARD). They can be reached by phone at 1-800-292-3939, email at MDA-Info@Michigan.gov, or through the MDARD Online Contact Form. Pesticide complaints are handled by the Pesticide and Plant Management Division.
Explain that you suspect pesticide misuse, and tell them "I would like to register a pesticide complaint". It is important to be specific. For example, let them know that you have a bee kill from pesticides or that your neighbor sprayed and it drifted into your yard. Your information will be passed to someone in the Pesticide and Plant pest management division. They should return your call within 24 hours. They will ask more questions of you, fill out a report and give you a case number. The specialist will gather information about your complaint: Your name, address and contact information, the name address and contact information of the person or company you believe is responsible for the pesticide use, and a brief description of the complaint (what occurred, what did you observe, and any information you have already learned from conversations you had with the applicator, if any). A Request for investigation will be assigned to an inspector in the regional of the state where the incident occurred.
MDARD pesticide Inspectors strive to respond to complaints within 24 hours to gather additional information. If a site visit is warranted they will make arrangements, they will also collect official samples. Pesticide inspectors may not have a lot of experience with bees. It may be necessary for the beekeeper to be present during an investigation, especially if colonies need to be opened to collect samples or make observations related to brood loss.
The investigator will be following the EPA Guidance for Inspecting Alleged Cases of Pesticide-Related Bee Incidents, and it is a good idea to look it over to know what they will need to do.
The MDARD investigator may swab the top of the hives, and will likely take a sample of dying bees, so make sure that you don't take any action that will prevent them from taking samples.
The investigator will also likely go out to the orchard/field to take samples, and will get spray records from the growers.
They will then test the samples, and use all of the information to determine if your loss was due to a misuse of pesticides.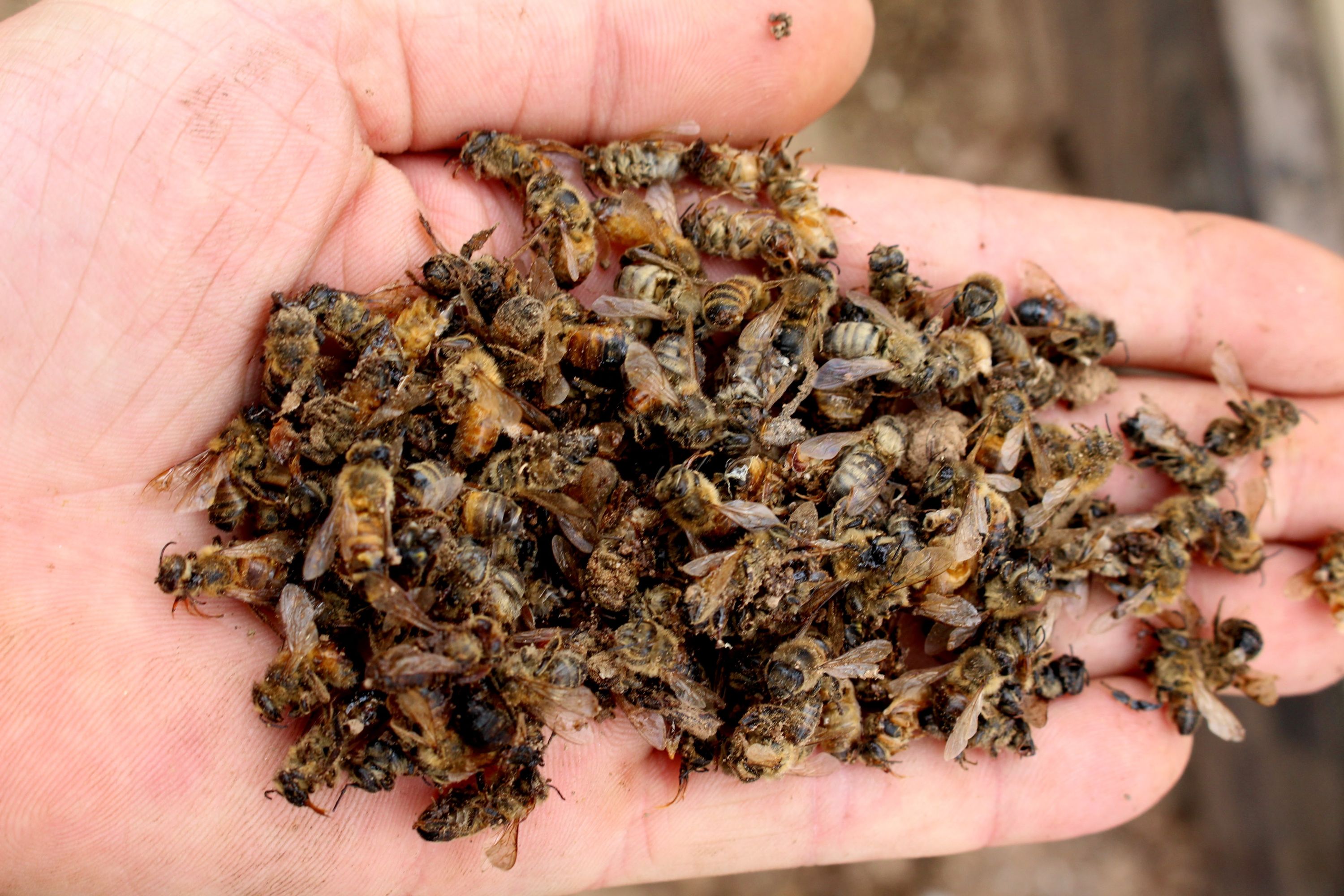 Frequently Asked Questions:
1) Will I get any money if I lose my hives?
The state does not have any funding or legislation to compensate beekeepers for hives lost to pesticides. MDARD can only indicate if a label violation has occurred. You can request this information via a FOIA request, if you need it in a civil case. You may also may be able to directly work out an arrangement with the grower to compensate you for your losses.
2) How long will the process take?
MDARD will have to collect a lot of information, and this process takes a while. For example, growers have 30 days to put records on the books. If a violation is found, they will begin the enforcement process. Your case will be one of many things that the office investigates, and it may take a long time to complete.
3) Is it important for me to call right away?
Keep in mind that pesticides can break down quickly. If you do not begin the investigation immediately, your samples may all be negative, even if a spray incident had occurred in the past. It is important for the samples to be fresh. The key is to get someone on MDARD to preserve a good sample.
4) Do I need to also contact the EPA?
No, MDARD has an agreement with the EPA, and will provide all the information from the case to the EPA.
5) Do I need to contact the state apiarist?
No, in Michigan, our apiarist and our pesticide division are in the same agency, so they will be in communication. If needed, the pesticide staff will contact the state apiarist for assistance, but pesticide inspectors are trained to do an investigation.
6) If I don't get compensation, why should I report a bee kill?
It is important for us to know how widespread pesticide-related issues are in the state, and what can be done to reduce them. If kills are not reported, it is hard to get funding for programs to reduce pesticide exposure for bees, or to show that they are a problem.
7) Can I call MDARD to test samples, even if I don't suspect a violation of the label?
No, MDARD's enforcement is conducted to address violations of law and violations of the label. If you would like to have hive products tested, you can use a laboratory service. MSU maintains a listing of labs that provide this type of service.