Heroes to Hives
Heroes to Hives is a unique program through Michigan State University Extension that seeks to address financial and personal wellness of veterans through professional training and community development centered around beekeeping. Veterans leave our program with a broad depth of beekeeping knowledge, as well as personal and professional relationships that open up new opportunities and ensure long-term peer support.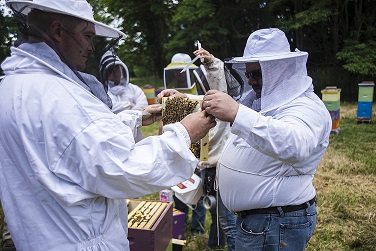 Our Heroes to Hives instructional apiary is housed at the beautiful and peaceful Kellogg Biological Station Bird Sanctuary, providing our veterans and instructors a quiet natural setting.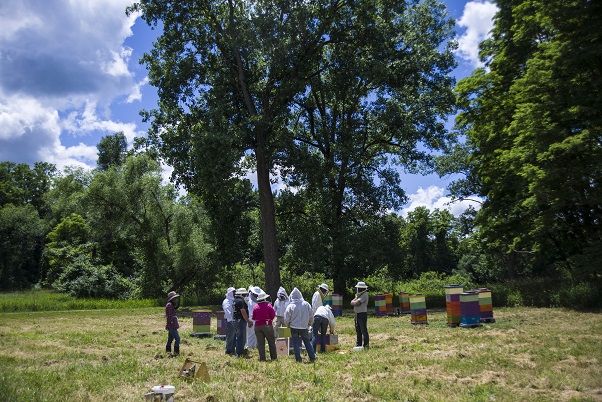 Heroes to Hives Supports Veterans and Honey Bees

Veterans
Michigan is home to ~640,000 veterans who are facing a multitude of challenges as they transition from military to civilian life. These challenges include anxiety, depression, dealing with service related health issues and disabilities, and finding career opportunities that are personally rewarding. These challenges are exacerbated by the loss of the camaraderie and support that is inherent in military units and often results in a sense of isolation and loss in the lives of many transitioning vets.
If you are a veteran interested in our 2018 program, sign up on our interest form.
Check out our video below to learn more about 2018 program updates:
Honey Bees
honey bees provide pollination services to 35% of agricultural crops grown, a service worth almost 20 billion dollars in the US each year. In the last decade, beekeepers have reported losses at unprecedented rates, with beekeepers losing 30 – 40% of their colonies each year. Beekeepers face more challenges than ever before, with pests, pathogens, poor nutrition and pesticides making beekeeping more difficult, and expensive.
Community building is a specific focus of the Heroes to Hives program, and our veteran centered approach to teaching and engagement allows veterans to feel comfortable and supported in a peer network of veteran beekeepers.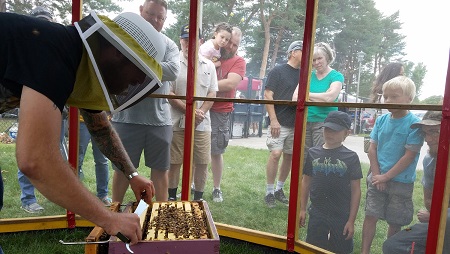 2017 Heroes to Hives students demonstrated how to conduct
checks for varroa mites, a global honey pest, on a live bee hive at
the Michigan Honey Festival. Experiences in educational outreach
give veterans new ways to serve and engage their communities.
Our students also engage their larger communities through "live hive" demonstrations of beekeeping management techniques at events in Michigan.
Current and Future Funding
The 2017 Heroes to Hives program was fully funded by the generous support of the AT&T Foundation and private donations. As the program grows, additional funding will be pursued through private donations, and collaborative grants with MSU faculty and Michigan based non-profit organizations. If you would like to help support Heroes to Hives, please visit our funding page.
For more information on the Heroes to Hives program - contact Adam Ingrao at ingraoad@msu.edu and check out the Heroes to Hives facebook page
Special Thanks to Our 2018 Donors